It's time to vote again, and LA Podcast is here for you. Here are our endorsements of local candidates and propositions in cheatsheet form. You can download a full-size image to save or share. We also have bite-sized Instagram images here.
If you want the explanations behind the endorsements—plus links to the podcast episodes where you can hear us discuss some picks in more detail—read on.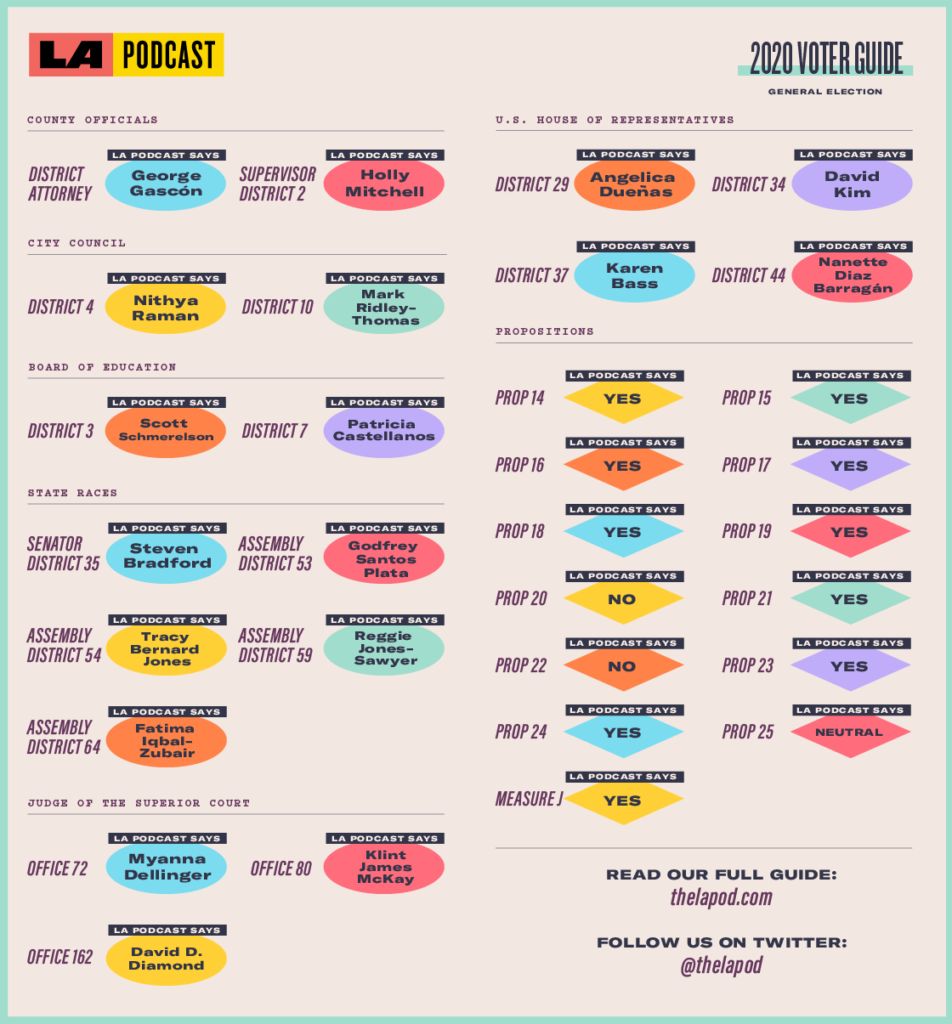 Local Candidates
District Attorney: GEORGE GASCÓN
To say Jackie Lacey has worn out her welcome would be a tremendous understatement. Black Lives Matter has, for years now, made it their priority to get county voters to fire the sitting district attorney. The reason why is simple: in Lacey's two terms, she has fostered an environment in which there is no consequence for police who take the lives of Angelenos. There is no bigger, more formidable opponent of the local efforts to halt police violence than a DA who has declined to charge all but a single killer cop. There is no less worthy head of the prosecutorial system than a DA who says that Black Angelenos are disproportionately jailed because they just "make bad decisions." Lacey has used her power to protect the powerful – men like Ed Buck, the big money Democratic donor accused of administering lethal doses of meth to Black men at his West Hollywood home. With Black Lives Matter, we say "Jackie Lacey must go and Jackie Lacey will go."
Lacey's opponent is George Gascón, former DA in San Francisco and a career cop for 25 years with the LAPD before that. While we are disappointed that our choice in the primary, Rachel Rossi, was unable to break through to the runoff, we eagerly endorse your vote for Gascón. We know that there is earned skepticism of Gascón's career in law enforcement and we share doubts of our own. Nonetheless, performance akin to Gascón's more recent experience in San Francisco would be a marked improvement for the conservative DA's office in Los Angeles. We believe that this election provides us an opportunity to show the legal system that voters will hold it accountable to change. We endorse Gascón for DA not just because he is the other name on the ballot, but because we believe that he represents a break from the past and a first step into the future for the judicial system in Los Angeles.
Los Angeles County Board of Supervisors
District 2: HOLLY MITCHELL
In the second district, voters have a choice between two experienced politicians moving on after terming out at their previous posts: Herb Wesson, formerly of the 10th Council District for Los Angeles, and Holly Mitchell, who departs the state legislature where she served as the senator from district 30.
Throughout Mitchell's time in office, she has been a strong advocate for progressive causes, expanding protections against source of income discrimination to include Section 8 vouchers statewide and fighting to provide stronger police oversight. We believe her voice will be a welcome addition to the powerful Board of Supervisors, which lately has been mired in battles against the lawlessness of the Sheriff's Department, while also having to handle responses to the Covid pandemic and an ever-worsening homelessness crisis.
As we mentioned in our primary endorsement of Senator Holly Mitchell, Herb Wesson, more than any other single individual, wielded his power as City Council President to severely limit the openness of political discourse and debate in Los Angeles for nearly a decade. These decisions have had immense consequences for the residents of this city and this region, empowering corrupt agents in City Hall to bypass the public good in favor of private gains. As a result of Wesson's leadership, voters trust their city government less. The implications of Wesson's brand of politics as applied to the already insular "5 Little Kings" of the Board of Supervisors are far-reaching and potentially devastating.
We strongly support Holly Mitchell for Supervisor.
Los Angeles City Council
District 4: NITHYA RAMAN
In the March primary, Nithya Raman achieved 41% of the vote, becoming one of just a handful of challengers in the last 20 years to force an incumbent city councilmember, in this case the 4th District's David Ryu, into a runoff contest. Raman accomplished that feat by running the most progressive campaign in recent memory, staking out positions far to the left of her opponent and of the council as a whole on rents, climate change, and homelessness.
Since that time, of course, everything has changed. Coronavirus, a deep-rooted corruption scandal in City Hall, and mass protests against police violence have rewritten the framing of this extremely important election. Voters would be right to ask whether our strong endorsement of Raman in the primary translates to the new Los Angeles in which they find themselves living now. We believe that it does, and we remain strongly in favor of Nithya Raman over David Ryu. Here's why.
It is rare, almost unheard of, for a challenger in a city council race to see their platform so thoroughly validated before they have a chance to take office. Since the primary, City Council has taken on many of Raman's proposals in response to the Covid pandemic, including the implementation of a still-in-effect rent freeze for RSO units in the city limits. Raman's platform was crafted in response to the problems the city was facing long before coronavirus upended life and led to the most unequal recession in living memory, but her proposals have continued to gain relevance and urgency.
On homelessness, the City Council continues to fail our most vulnerable Angelenos, a disproportionate share of whom are Black and/or victims of the carceral system. City leaders have focused more on shifting blame than achieving positive outcomes. On corruption, Raman brings a compelling outside perspective to a body, of which the incumbent has been a part for half a decade, riven by accusations of truly horrifying corruption. On policing, Raman has developed a service-centric model for moving away from policing as we know it, while, unlike her opponent, refusing to accept money from police unions.
From the sidelines of city government, Raman has staked out a position as one of the LA's foremost voices for detailed, implementable, and progressive policies. The result is that Raman's campaign has generated similarly unknown levels of interest for a city council campaign. This is the most competitive race that has been run against an incumbent councilmember in Los Angeles since former Mayor Antonio Villaraigosa defeated Councilmember Nick Pacheco in the early 2000s.
In contrasting Raman with her opponent, David Ryu, we believe the choice is clear. Although Ryu has sought to take the opportunities provided by the last several months to rebrand himself as a left-oriented voice on the counsel, we have significant doubts about the sincerity of Ryu's move to adopt large portions of Raman's policy program. These doubts are fueled especially by his continually seeking out opportunities to castigate Raman for her progressive positions when the forum suits him. For example, during a recent debate before a local homeowner's association, Ryu denigrated the People's Budget created by Black Lives Matter in an attempt to paint Raman as dangerous, a clear signal as to for whose benefit he will continue to govern if re-elected.
In sum, Raman is a credible voice for change in an environment where those voices are scarce. We enthusiastically endorse a vote for Nithya Raman in Council District 4.
District 10: MARK RIDLEY-THOMAS
Last time out, LA Podcast endorsed Aura Vasquez, an organizer who made climate action the centerpiece of her campaign. Vasquez failed to make the run-off and instead the open seat will come down to this contest between exiting County Supervisor (and former City Councilmember) Mark Ridley-Thomas and Koreatown community activist Grace Yoo.
Ridley-Thomas's career remains a mixed bag, and one in which there are many reasons to be suspicious. However, there are good reasons to support his bid for a return to the City Council too. Ridley-Thomas, along with the rest of the Board of Supervisors, has in our opinion responded appropriately to the reckless and ever-more dangerous behavior of Los Angeles's sheriff Alex Villanueva. Ridley-Thomas has not shrunken from his responsibility to call out Villanueva's lies, and, further, he and his Democratic colleagues put the admirable Measure J on the ballot as an initial step to return funding to low-income communities.
By contrast, his opponent Grace Yoo is the candidate of the reaction. Yoo's activism – although we agree with her that the city has used gerrymandering to stymie the voices of Korean Americans – has primarily tended toward a retrenchment into failed policies of criminalizing homelessness and fighting against fundamental changes to public safety.
Ridley-Thomas will never be a perfect politician; he views himself as a consummate pragmatist. In this case, we agree with him: Mark Ridley-Thomas is the pragmatic choice for 10th District councilmember.
Los Angeles Unified School District Board of Education
District 3: SCOTT SCHMERELSON
In District 3, voters are asked to decide a runoff contest between Scott Schmerelson, sitting boardmember, and challenger Marilyn Koziatek. The race emblematizes the ongoing, extraordinarily costly battle over the Board of Education being waged by public sector unions, most prominently the United Teachers of Los Angeles, and, on the other side, backers of expanded autonomy for charter schools. Schmerelson, a former principal in LAUSD and member of the board's 4-3 union-backed majority, is the choice of UTLA, while Koziatek, a former administrator at a charter high school in the Valley, is backed by the California Charter Schools Association Advocates.
This race has been among the most venomous this year, with a PAC related to CCSA Advocates distributing antisemitic mailers targeting Schmerelson in February. Though the ads were condemned by Koziatek, CCSA Advocates, whose endorsement Koziatek still broadcasts, were evasive about their promotion of racist stereotypes in the race when asked about the ads by the LA Times's Howard Blume.
While the two largest funding camps behind school board elections remain pro-union and pro-charter forces, that is by no means the only issue facing the board. Earlier this summer, when the school board voted to substantially defund the LAUSD school police department – by far the most significant action taken thus far on police funding in Los Angeles – it was achieved via a rare split vote in which most of the charter wing carried the measure. Schmerelson was a furious no vote on the defunding proposal, accusing his colleagues of taking an action that would result in the deaths of children, and indicating throughout that he had absorbed little from either the protests or the presentations of current students.
We do endorse a vote for Schmerelson, but it is primarily out of a belief in the need for the board to safeguard the tenuous advances achieved by the UTLA and its more modern policy program. We are hopeful that the board will continue to come together to achieve progressive goals for the student body.
District 7: PATRICIA CASTELLANOS
Patricia Castellanos, our endorsed candidate from the March primary, remains our choice to take the open seat on the LAUSD school board. Castellanos has worked in the office of Supervisor Sheila Kuehl and for Los Angeles Alliance for a New Economy, a non-profit advocating for low-income families in the region. Castellanos also, importantly, has a school age child in LAUSD, which would make her the only person among the seven-member board to be a district parent if elected.
Castellanos is the union-backed candidate in this race, and her priorities, including furthering efforts to increase funding to public schools and lower classroom sizes, align with what teachers have been fighting for at the district for ages.
We believe that Patricia Castellanos is the best fit for the 7th district.
State Candidates
California State Senate
District 35: STEVEN BRADFORD
The state legislative contingent from Los Angeles has been uneven lately. While it seems that the power of LA senators and assembly members is on a constant upswing, more often than not that power seems to be used to preserve the status quo on behalf of law enforcement and homeowners. During this session, Bradford was different. He authored SB 731, a police reform bill with far-reaching implications for the ability of violent cops to continue to patrol city streets. Although the Assembly, helmed by Anthony Rendon failed to pass SB 731, we credit Bradford for having both the courage to wage the fight and capacity to understand the magnitude of the problem. We are hopeful that he will continue fighting in his next term.
District 53: GODFREY SANTOS PLATA District 54: TRACY BERNARD JONES District 59: REGGIE JONES-SAWYER District 64: FATIMA IQBAL-ZUBAIR
Judge of the Superior Court
As we did during the primary, we support the candidates endorsed by the Public Defender Union. In Los Angeles, more people than anywhere else in the U.S. are incarcerated. The history of our city and region has been the history of decades of failed policies that treat human lives as disposable and entrenched social injustices as the cost of doing business. That carceral mentality undergirds the American judicial system, but here more than anywhere else we have high walls to scale if we are to set our county on a different path. For this reason, we seek out the opinion of those who have seen the depredation of the courts up close and those who have dedicated their lives to protecting the indigent from a system so often used to ruin their lives.
Office 72: MYANNA DELLINGER
Office 80: KLINT JAMES MCKAY
Office 162: DAVID D DIAMOND
Federal Races
United States House of Representatives
District 29: ANGELICA DUEÑAS
If elected, Angelica Dueñas would immediately become one of the most progressive votes in the congressional Democratic caucus, supporting a wide variety of leftist policy goals from socialized medicine to free tuition to nuclear disarmament. Her opponent, Tony Cárdenas is a backbencher from the mainline of the Democratic Party, whose allegiance to corporate donors and opposition to policies like medicare for all make him a roadblock to the transformation of the Democratic caucus. The 29th District has an opportunity for a significant upgrade in electing Angelica Dueñas.
District 34: DAVID KIM
David Kim is challenging incumbent Jimmy Gomez for this central Los Angeles seat. While Gomez bills himself as a progressive, he has raked in a tremendous amount of money from corporate PACs, including more than a quarter of a million dollars from donors associated with health insurance, hospitals and pharma companies. Kim, by contrast, is running on a platform centered around undoing the corrosive effects money has had on our politics. His background working to fight the pernicious attacks by the U.S. government on immigrants provides additional cause to boost Kim in this leftist friendly district.
District 37: KAREN BASS
Karen Bass always was an underdog in the Biden campaign's sweepstakes for Vice President. She was less well known than the Democratic presidential candidate's other options, which included national household names in Kamala Harris and Elizabeth Warren. But Angelenos know what we've got in Bass, whose career fighting to uplift the communities of South LA stretches back decades. As head of the Congressional Black Caucus, Bass has continued work that she began when she founded the Community Coalition of South Los Angeles in 1990. In Karen Bass, Los Angeles has a capable leader with an unquestionable dedication to her communities.
District 44: NANETTE DIAZ BARRAGÁN
Nanette Diaz Barragán is the incumbent in California's 44th district, which is composed of varied communities from middle class suburban neighborhoods, to working class enclaves by the harbor, to the South Bay's vast industrial centers. It is a district that has been hit more than most with environmental racism, worsening income inequality, and over-policing. Barragán, who is seeking her third term in office, has proven herself to be an adept voice for her district, and something of a model backbencher for the Democratic Party that the progressive wing is attempting to build. She has supported Medicare for All and robust changes to policing. We believe that Barragán has a bright future in Congress, and encourage voters to support her in this election.
Propositions
Hayes and Scott "prop it like it's hot" and run through almost every ballot measure in this episode.
Prop 14: OKAY
Proposition 14 lets California borrow $5.5 billion for a massive cash transfusion to the state stem cell research agency.
This agency was first funded by a ballot measure in 2004 and is now out of money. Both the 2004 measure and this one are funded by investment banker Robert Klein, a real estate developer whose son has Type 1 diabetes — one of the incurable diseases Klein and other advocates hope stem cell research could unlock.
After 16 years and billions of dollars spent, the research agency has some promising studies, but no transformative (or even federally-approved) new treatments. And in a state with many non-theoretical uses for $5.5 billion, it is not easy to justify throwing that money at theoretical cures.
Medical breakthroughs are not guaranteed to come from this huge public investment. But without the money, they're guaranteed not to — the agency will shut down completely if this measure doesn't pass. The structure of the bond measure spreads the financial impact over a number of years, and we believe medical research should be funded with public dollars when possible, so we're a yes on this.
Prop 15: YESSSSSS
Pick any one of California's multifold existential crises, and you can probably trace its origins back to 1978's Prop 13 — a ballot measure that set caps on property taxes and decimated state budgets. The housing crisis? Prop 13 has made vacant land easy to hold on to, and incentivized commercial land use over residential. Gross air? Prop 13 sent new homebuilding farther and farther from city centers and into wildlands, creating longer commutes and higher fire risk. Failing school systems? More than anything, Prop 13 destroyed school budgets, leaving the state stuck in the bottom ten nationally in per-student spending.
Prop 13 has been called the "third rail of California politics," but Prop 15 is the state's first real effort to poke that rail with a long stick. Prop 15 removes caps on tax increases for large commercial properties, so their taxes would be calculated in proportion to their actual property values rather than artificially deflated by limited annual increases. It is a necessary first cut into Prop 13's conservative onslaught on public service in California, and it couldn't have come at a better time. The state budget is in serious pain right now: one weird trick to refill it is would be to make large businesses pay what they rightfully owe.
Prop 16: YES
Prop 16 undoes 1996's Proposition 209, which "prohibits state and local governments from discriminating against, or granting preferential treatment to, individuals or groups on the basis of race, sex, color, ethnicity, or national origin." The discrimination it was primarily trying to address was, of course, discrimination against white people — Prop 209 made affirmative action programs illegal in California, and Prop 16 would allow them to resume.
Governments and public services wouldn't be allowed to set quotas when it comes to hiring — those were outlawed by the Supreme Court in 1978. But they could conduct programs to identify and select new hires that would increase diversity, as opposed to current law that requires them to do nothing about it.
Prop 17: YES
Prop 17 restores voting rights for people on parole for felony convictions. Nineteen states, including Indiana, Montana, North Dakota, and Nevada, already allow parolees to vote. Do we want California to be behind Indiana, Montana, North Dakota and Nevada on this? No we do not.
Prop 18: YA
Prop 18 lets 17-year-olds who will turn 18 by the general election vote in the primary. Opponents of this measure are weirdos who imagine a horde of 17.5-year-olds yeeting themselves to the polls to make sure Republicans never get elected in a top-two California primary again. It would be great if this actually did happen! Let Teens Vote.
Prop 19: OKAY
Prop 19 is a devil's bargain with the California Association of Realtors. Remember Prop 13 from 1978, and how it limits your property tax increases to 2% a year, no matter how much your home value increases? Two years ago, the realtors put a measure on the ballot to allow homeowners age 55 and older to carry those deflated property tax rates to new homes when they move. That means more seniors selling their homes (good for realtors) and buying new ones (good for realtors) while everyone else is stuck with even lower school budgets from decreased tax receipts (bad for everyone else).
That measure was awful and it failed. So the realtors are here with a compromise. If we let them have this property tax break for seniors, they'll get rid of another pernicious property tax break — a law that lets homeowners maintain their low tax rates when they leave their homes to a family member, who then use them as second homes or manage them as expensive rental properties. This clause has led to stunningly low property taxes paid by rich people whose beach houses and rental units have been passed down through generations. The LA Times did an expose on it last year, focusing on Jeff Bridges's inherited house in Malibu, which he rented out for more than $15,000 a month but pays property taxes based on the home's value when his family first purchased it in 1975. California is the only state to offer this break, and it costs us LA County alone $280 million every year.
This ballot measure is not how policy should be made, but we see this trade-off as a net positive. It limits many Prop 13 tax breaks to the life of a property owner, instead of letting them extend on indefinitely across generations, and the seniors don't actually get to carry 100% of their reduced property tax with them when they move. Combining this measure with Prop 15, it's hard to turn down the chance to cut off two of Prop 13's tentacles on one ballot. We are a shrugging yes. We discuss 19 in more depth at the end of this episode.
Prop 20: NOOOOOO
Prop 20 undoes some previous state ballot measures, including 2014's Prop 47, the leading cause of strokes for conservative talk radio hosts. Prop 47 was an effort to reduce California's overflowing jail population. It turned some felonies, like shoplifting under $950 worth of stuff and use of illegal drugs, into misdemeanors. It passed by 20 points, and as many as 1 million Californians became eligible to change past felony convictions on their records.
Now, NIMBYs and Republicans blame Prop 47 for everything that is bad about California right now — including homelessness, which they say is caused by California no longer being able to imprison low-level shoplifters.
Prop 20 is an effort to jail more people for longer. It would change many of those now-misdemeanors back into felonies, and would also require people arrested for those crimes to submit DNA samples to a state and federal database. Gross/weird.
Who's paying for this? The state correctional officers union, the LASD deputies union, and the LAPD officer union, all of whom are worried their core business model will suffer if they can't arrest and jail as many people for minor crimes. VOTE NO.
Prop 21: YES!!
Expanding rent control is one of the things we get to vote on every other year now, along with tax breaks for homeowners and kidney dialysis policy. Prop 21 is a revision of 2018's Prop 10, which would have allowed California cities to expand which properties are rent-controlled, something they currently can't do under a law called Costa-Hawkins. Prop 10 was good! But it failed. Luckily, Prop 21 is even better, and it's probably more likely to pass.
Where Prop 10 was a simple repeal of Costa-Hawkins, Prop 21 sets rules for how cities can go about expanding rent control: it can only apply to buildings older than 15 years, for example. Like Prop 10, Prop 21 is put forward by the AIDS Healthcare Foundation and Michael Weinstein, an extremely problematic presence in LA who has fought much-needed new housing production for years. Like Prop 10, Prop 21 has generated a No campaign funded by landlord groups and private equity. Like Prop 10, Prop 21 is worth voting for and getting all your friends to vote for.
Prop 22: NO!!
In our well-oiled, definitely-functioning California democracy, if you don't like a law passed by state legislators, you can put a measure on the ballot to reverse it — provided you are a huge corporation and are willing to spend a hundred million dollars. That's what Uber, Lyft, Doordash, and other gig-economy robber barons are attempting to do with Prop 22.
Prop 22 would overturn parts of AB5, a law that forced these companies to classify their drivers as full employees rather than contractors. AB5 would mean Uber/Lyft drivers would get health care, a minimum wage, and other basic protections offered to full time employees — which would screw up Uber/Lyft's entire exploitation-centric business model, so they are doing everything they can to stop this from happening.
Prop 22 is a nightmare. In addition to repealing AB5 only for rideshare operators, it comes with a bunch of sinister catches — including a requirement that any amendments to the measure would have to get an 87.5% vote in the state legislature. Most importantly, it commits tens of thousands of gig workers to a permanent future of indentured servitude and cuts the legs off both the labor movement and democracy at the same time.
We can't keep doing this! We cannot keep letting this happen. Our ballot measure system, ostensibly designed to allow residents to weigh in on important civic issues, has become (and probably always was) nothing more than a hack for the richest people and corporations on the planet to rewrite the state legal code so they make even more money, which they spend rewriting more laws. The spending right now on this issue is $120 MILLION FOR YES AND $2 MILLION FOR NO! This system needs to be destroyed. It is not salvageable. You have to vote No on this.
Prop 23: SURE
Welcome to California, where getting a driver's license allows you to set life-or-death policy for eighty thousand people with kidney disease. It's another ballot measure about the dialysis industry!
In the past we haven't weighed in on these out of principle — we should not be allowed to. We barely know where the kidneys are. But better-informed people seem to think this bill, put forward by the healthcare workers union (who also put up the last dialysis measure, which failed) is better for patients and will put a licensed physician on site at all times. Seems reasonable! We'd want one around in case something goes wrong, probably.
Prop 24: FINE
Two years ago, a San Francisco real estate developer named Alastair Mactaggart developed an obsession with online privacy based on a conversation he had at a party, so he started putting together a ballot measure to stop internet companies from selling your data. It looked like it was going to pass, so California legislators put together a deal and passed legislation so MacTaggart would agree to call off his ballot assault. Now there's a toggle on every website that allows you to check "Do Not Sell My Personal Information." It's fun to toggle it!
But Mactaggart isn't done. He's decided the new laws aren't enforceable enough, so this ballot measure is designed to strengthen them. It has a number of surprising opponents, including the ACLU and Color of Change, who argue it doesn't go far enough and leaves two many loopholes. But the proposition creates a regulatory body and makes it possible for the legislature to make privacy laws even more strict, so we'll support it.
Prop 25: NEUTRAL
This proposition offers you two potentially bad choices, so we're going to give you as much context as we can and let you decide for yourself.
Prop 25 is a referendum on SB10, a 2018 measure to end cash bail in California. This effort was initiated and initially supported by dozens of major criminal justice reform groups who have spent decades fighting the cash bail system, which keeps predominantly BIPOC and poor people in prison for very long periods without being convicted, simply because they can't afford the arbitrary fee set for their release.
But then state lawmakers, lobbied by the union for probation officers, made changes to the new law: instead of bail, release would now be decided by a "risk assessment" algorithm based on a number of factors, including age and felony record. Because California has a history of disproportionately locking up Black and brown residents, the algorithm would almost certainly tend to declare these same residents to represent a higher "risk," and deny them even the opportunity to post bail for release.
So previous supporters of SB10 dropped out en masse and started campaigning furiously against the bill. It passed anyway. But just like with Proposition 22 on this ballot, a deep-pocketed special interest group has emerged to try and get it overturned: the cash bail industry.
Bail bondsmen and law enforcement unions put this initiative on the ballot, hoping to confuse you into voting "No" and bringing a return to the cash bail system in California — but not the exact same system we had before. Just a month ago, the California Supreme Court ruled that judges must account for a defendant's ability to pay when setting bail, so low-income defendants may not have to pay bail at all.
Criminal justice reformers like Human Rights Watch, Patrisse Cullors, the Justice LA Coalition, and the LA County Public Defenders Union are all supporting a No vote on Prop 25: they'd rather see true reform of the racist cash bail system than a law that replaces it with a racist algorithm. They know what they're talking about. We're not going to second-guess these advocates and support a Yes vote.
But the No vote is ALSO supported by most of the law enforcement industrial complex and the California GOP. They're putting big money behind this effort for a reason: they want to continue making enormous profits off of people who are at the mercy of the criminal justice system. They also know what they're doing. It's very difficult to side with these interests and support a No vote.
We're also concerned about the political ramifications of Prop 25's failure. No ballot measure exists in a vacuum — their outcomes set patterns that dictate future political efforts. If Prop 25 were to fail, it would reinforce our existing political hellscape in California, where the wealthiest corporations and people (particularly those, like bail bondsmen and Uber/Lyft, that profit from exploiting poor and BIPOC residents) can plow money into ballot initiatives that write state laws for themselves. The more that strategy proves successful, the more we'll be subjected to it.
Voters rejecting Prop 25 might also discourage state legislators from pursuing more ambitious criminal justice reform projects altogether. But then again, Prop 25's success could discourage them, too — they may feel like they've done enough work on this for a while. This is a group that is pretty easily discouraged no matter what happens.
However Prop 25 goes, California will not come out with an immediately positive outcome. We're taking the position of ACLU SoCal and going neutral. For more on reform case for the No position, consult KNOCK.LA's excellent voter guide. We also discuss 25 more at the end of this episode.
Measure J: YESSSSS!
Long before the national movement to reduce police funding, a similar movement was brewing in Los Angeles County — accidentally spearheaded by Sheriff Alex Villanueva. The Sheriff's bizarre administration, beginning with his attempt to reinstate a deputy fired for domestic violence allegations and proceeding through a series of horrific scandals and abuses too long to detail here, forced the hand of the County Board of Supervisors, who began limiting his authority with the Reform LA Jails Act on the March ballot. But when the movement to reallocate law enforcement funds into community resources rose up in June, there was plenty of momentum left over to get another on the ballot.
Measure J would take 10% of the County's General Fund, much of which is currently given to the Sheriff's department, and dedicate it to programs designed to serve and uplift low-income communities. It's one of the first steps of its kind anywhere in the country — shifting funds from criminalization to care in America's largest law enforcement jurisdiction. Measure J is really important. Do what you can to get it passed.
For more information, listen to our interview with Yes on J co-chair Eunisses Hernandez at the end of this episode of the podcast.
Local Ballot Measures
Burbank
(Vote Konstantine Anthony for City Council)
RC stands for rent control. This is a ballot measure to expand rent control in Burbank, a city that currently has no rent control or no-fault eviction protection at all.
Culver City
(Vote Yasmine McMorrin, Freddie Puza, and Darrel Menthe for City Council)
This is a ballot measure to undo the rent control and tenant protection ordinances just voted on by the City Council of Culver City. A bunch of business owners and landlords are funding it.
This measure would make Culver City's real estate transfer tax more progressive: the more expensive the property being sold, the higher the tax. San Francisco has a similar system, and the city of LA should adopt it as well.
Long Beach
It's an oil extraction tax, meaning that offshore drilling companies are taxed by the barrel. Better than no tax at all.