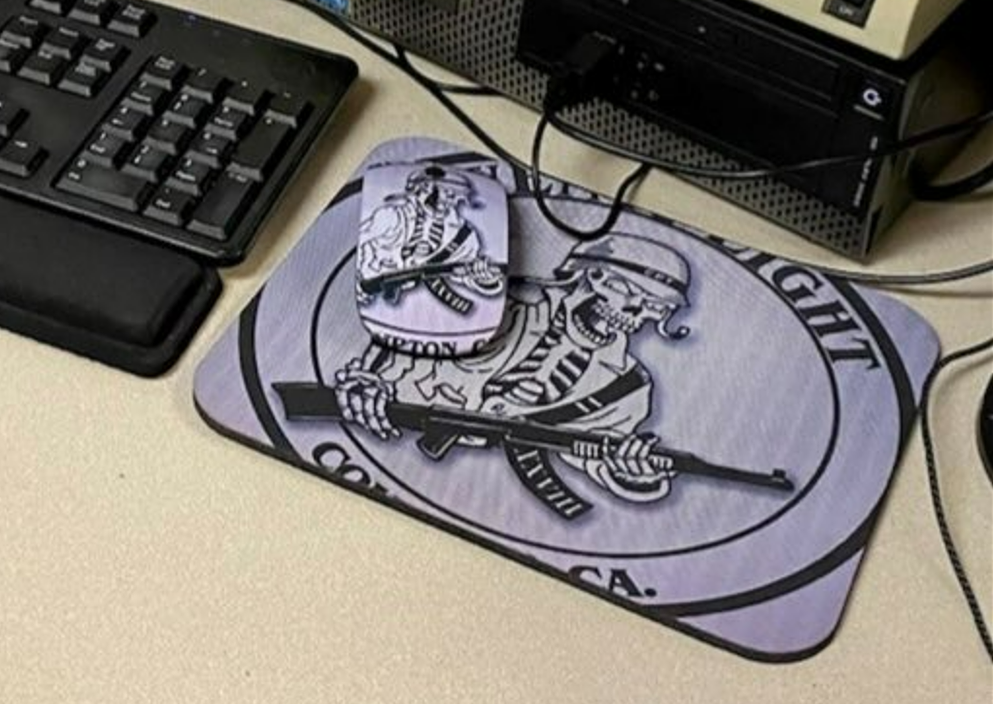 With only days before trial was scheduled to start, a Los Angeles County Superior Court judge on Thursday dismissed a high-profile whistleblower case that could have spilled out in court the secretive conduct of an alleged violent gang of sheriff's deputies at the Compton Station who call themselves "Executioners." Alan Romero, a lawyer for plaintiff Austreberto "Art" Gonzalez, said in a statement to Kate Cagle of Spectrum News that the judge's actions amounted to nothing less than a "cover-up" on behalf of the Executioners and the Sheriff's Department.
Speaking to LA Podcast, Romero said an hours-long final negotiation between Gonzalez and lawyers for the County of Los Angeles failed to produce a settlement. When lawyers informed Judge William Fahey that no agreement had been reached, Romero says the judge "threatened" Gonzalez, giving him one final chance to take the county's offer.
According to Romero, the county's proposed settlement position was far from what plaintiffs thought was appropriate, and the gap could not be bridged. Lawyers for the county did not respond to multiple requests for comment regarding the case.
After confirming that there would be no settlement, the judge dismissed Gonzalez's suit with prejudice — meaning the lawsuit cannot be refiled. It marked if not an end, then at least a significant setback for a case that has attracted international media attention.
In depositions, Gonzalez has testified repeatedly under oath about the membership, structure, and conduct of the Compton Executioners. Gonzalez, a deputy sheriff and former marine, claims that the Executioners have exacted a near total takeover of Compton Station. His complaint further alleged the Executioners have inverted the chain of command, implementing work slowdowns and illegal arrest quotas to punish or assist other employees at CPT, as the station is known to those who work there.
According to his suit, Gonzalez had been the victim of retaliation after he attempted to report the beating of a fellow deputy by a tattooed member of the Executioners. After he made an anonymous report to an Internal Affairs tip line, Gonzalez says the investigator who came to interview him intentionally outed him to the Executioners. Subsequent court filings by Romero identify that investigator as Mark Lillienfeld, a retired detective who the Los Angeles Times reports directs a "secret police" unit to investigate Los Angeles County Sheriff Alex Villanueva's political enemies since he was rehired by the department in 2019.
After Lillienfeld came to CPT to talk to Gonzalez, Gonzalez says that he was subject to retaliation and harassment, including being removed from his post as a trainer and having his work schedule rearranged to make it more difficult for him to care for his chronically ill child. The phrase "ART IS A RAT" was tagged near the entrance to the station.
The dismissal of the case, first reported by Cagle, prompted Sheriff Villanueva to tauntingly post "Google This," on social media. The sheriff's tweet is a mocking reference to the "Google LASD Gangs" meme that directs the public to KNOCK-LA journalist Cerise Castle's reporting about the issue. Castle is also a regular contributor for LA Podcast.
In the tweet, Villanueva linked to a triumphal signed press release in which he called Gonzalez an "uncredible source," and appeared to insinuate that he would investigate and possibly even take punitive action against Gonzalez. The sheriff wrote he was "deeply concerned" that Gonzalez's complaint may have contained "incomplete or misleading information," and that "appropriate measures will be taken so that we continue to assure our communities deputy sheriffs can, and must, be trusted."
Despite his gestures toward an impartial concern for his department's integrity, Villanueva's own actions could serve to cast a different light on any potential investigation into Gonzalez. The sheriff has had a long history of bristling against the media's coverage of deputy gangs, including making threatening statements to journalists during regular livestream events. He publicly accused Gonzalez of fabricating allegations, dismissing what, if true, would almost certainly be considered perjury as "part of the lawsuit process."
The sheriff's conclusions also tended to overstate the judge's ruling. Judge Fahey dismissed Gonzalez's case with prejudice, which means the same suit cannot be brought back before the court. The ruling amounts to a ruling in favor of the county based on the substance of the plaintiff's accusations. But, according to Romero, it is not as clean cut as that, because much of the substance had already been barred from being brought before a jury.
Judge Fahey, Romero said, had already stripped Gonzalez of the ability to talk about the Executioners as irrelevant to the alleged retaliation against him. According to Romero, the judge also declined to hear a request to compel under oath testimony from alleged Executioners "shot caller" Jaime Juarez.
Romero had previously said that absent that central evidence, his client was being forced by Judge Fahey "to go to trial with no usable, relevant evidence." Following the decision, Romero compared a summary dismissal in an employment claim like Gonzalez's to "climbing Mount Everest. It almost never happens." But Judge Fahey, he said, had "scaled Mount Everest in order to protect this gang and the Sheriff's Department."
Given that Judge Fahey had already excluded all evidence related to the Executioners as irrelevant to Gonzalez's claims, there was little to back up Villanueva's assertions that the case had found the gang did not exist. Speaking to LA Podcast, John Sweeney, a lawyer in another pending civil suit related to the Executioners, agreed with Romero. "The existence of the gang was not a factor in the dismissal [of the Gonzalez case]," Sweeney said.
While the sheriff sought to portray the dismissal of Gonzalez's suit as the closing of a chapter on the Executioners, there are many more opportunities for details about the alleged gang to be forced to light in the months ahead. Apart from the Gonzalez case, Romero alone is representing at least four other plaintiffs from CPT who are seeking damages related to the conduct of the Executioners.
Sheldon Lockett, Sweeney's client, is bringing still another case that could potentially go before a jury in the near future. Lockett is seeking damages and policy changes in the Sheriff's Department following a 2016 incident in which he alleges members of the Executioners beat and shouted racist epithets at him, before locking him up for 8 months for a crime he did not commit. The family of Andres Guardado, a teenager killed, according to Gonzalez, by prospects of the Executioners, has a case pending as well. So does the City of Compton.
Even for Gonzalez, this is not the end of the road. Romero says that they have already retained counsel for an upcoming appeal, which is likely to be filed within the next 90 days.
Correction note: A previous version of this article inaccurately described the circumstances under which testimony related to the Executioners was not heard by the court. It was not due to a missed deadline. We've updated the story.