Fewer than half of renter households who applied for rent relief have received it. Meanwhile, billions sit in government accounts.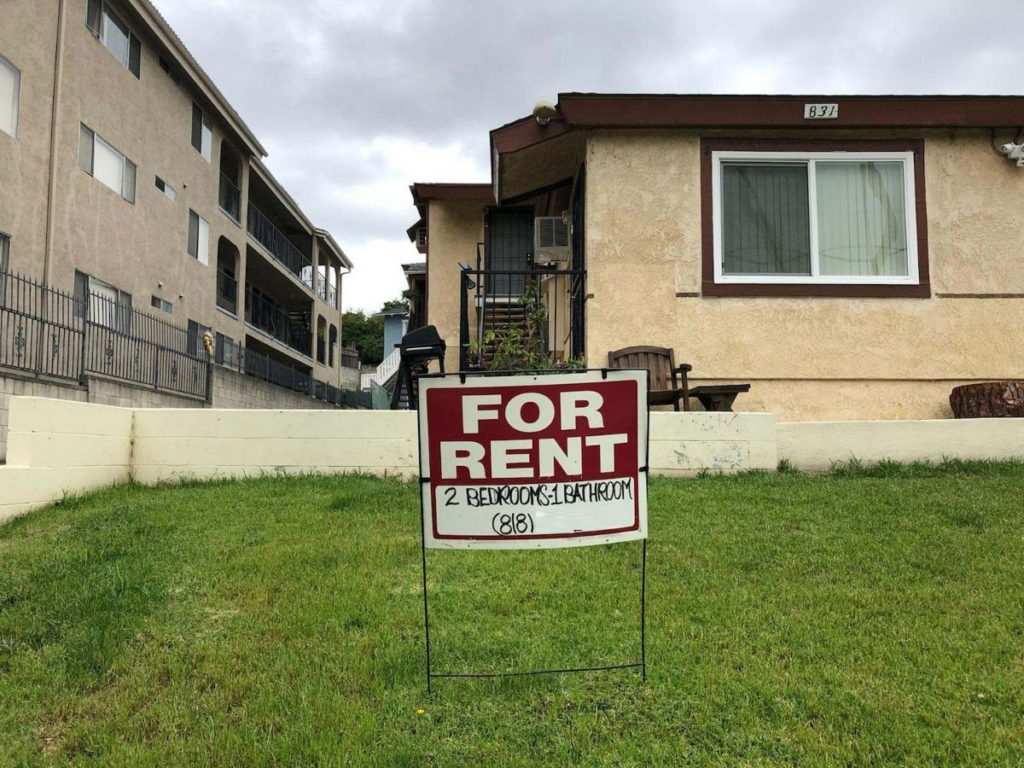 Mid-City resident Jenise Dixon is one of many Los Angeles renters still worried daily by uncertainty about her housing security two years into the COVID-19 pandemic.

Dixon is an independent filmmaker. But when the lockdown orders came down in March of 2020, she was also earning money driving for Uber and Lyft. Her income vanished, and by the end of September of 2020 she had exhausted her savings.

No longer able to pay her rent, Dixon's already tense relationship with the property manager at her apartment deteriorated further. She said warnings, messages, requests for payment, and notices for alleged lease violations began arriving almost on a daily basis.

"It's exhausting," said Dixon. "It's a constant back-and-forth… emails, harassment."

Earlier this month, Dixon said she received an unlawful detainer notice—the formal start to eviction proceedings.

"This has probably been the worst year-and-a-half of my life," said Dixon. "I'm dealing with so much."

Dixon's case illustrates clear limitations of the emergency renter protections established by the State and local governments in California, supposedly to stave off a mass-eviction of tenants who missed months of rent at the onset of the pandemic.

These protections have prevented thousands of evictions from moving forward at a time when renters faced high unemployment and income loss because of circumstances outside of their control. But now some of those protections are weakening, and promised relief money from the state is not making it to tenants fast enough.

Household survey data collected by the U.S. Census Bureau shows that nearly 700,000 renter households in Los Angeles and Orange counties were behind on rental payments as of the first week of February, with almost 120,000 still waiting on assistance from the state. The Census Bureau's analysis also estimated that about 240,000 renting households are facing a situation where it was "somewhat" or "very likely" they would have to leave their current residence due to eviction in the next two months.

At the state level, most protections against evictions lapsed at the end of last September, though some emergency protections temporarily remain in effect in much of Los Angeles County (including the city of Los Angeles and unincorporated neighborhoods).

This means that tenants in most parts of the state can now be evicted if they miss rental payments due on or after October 1, 2021. Tenants are also responsible for paying rent owed between September 1, 2020 and September 30, 2021, though Governor Gavin Newsom announced over the summer that the state will use the $5.2 billion in federal relief money to pay off rent debtaccrued by low-income tenants (those making under 80% of the median income) during that time period.

Those funds should go a long way toward bringing renters up to date with payments they were unable to make as a result of the pandemic and its economic fallout. But so far, distribution of the relief money has not been a speedy process.

Nearly half-a-million renter households applied for rental assistance in California. But according to an analysis published in March by the National Equity Atlas, payments have made it to just about 16% of all of all the households who applied for relief through the state's Housing is Key program.

The numbers by National Equity Analysis differ from the numbers circulated by the State itself, which says about $2.2 billion has already been paid to 41% of the households that have applied for relief, according to the California Business Consumer Affairs and Housing Agency. CalMatters reporter Manuela Tobiasasked the state directly about the discrepancy, and a representative replied that its own numbers were more accurate.

Despite the discrepancy as to how much money has actually made it to tenant's rental accounts, it remains a fact that California and its counties are still sitting on about $3 billion of rental relief funds that have not been distributed to needy tenants, and that the majority of the half-a-million households who applied for help haven't gotten it yet.
With relief funds slow to arrive, tenants are left with rising levels of debt and increasingly strained relationships with landlords and property managers—some of them facing financial pressures of their own.

Reports of tenant harassment and deferred maintenance became so common during the pandemic that in June LA's City Council passed an anti-harassment ordinance giving tenants the ability to sue landlords for things like making threats, coercing tenants to move out, and failing to make timely repairs or address safety issues.

"I can't tell you how much I've seen allegations of harassment," said Jennifer Baez-Silva, supervising attorney at the Legal Aid Foundation of Los Angeles. "From what I saw, landlords were feeling very overwhelmed and they just took matters into their own hands."

During a webinar in May, Inner City Law Center attorney Donella Green described one instance in which a client's landlord sent a hired agent to physically remove the tenant from his home and change the lock to deny him reentry. Harassment also means landlord negligence or prolonging of unsafe conditions for tenants. Dixon, for instance, maintains that her property manager did not intervene when she began to receive verbal threats from a new tenant who moved in downstairs midway through 2020—even after she received a restraining order against her new neighbor.

Dixon shared a 23-minute video with LA Podcast in which a man can be heard outside her unit repeatedly revving a motorcycle, screaming, cackling, and shouting threats and misogynistic slurs. Dixon said the man heard in the video is her neighbor, and that this behavior is routine.

The video was recorded using a security camera that Dixon said she installed for her safety. She said she sent the video to her property manager and received no reply other than a written demand that she remove the cameras within three days or move out.

The anti-harassment ordinance gives tenants in LA City further recourse to fight back against such behavior, but Dixon said tenant attorneys she's spoken with have been hesitant to take such cases because, as the law is currently written, attorney fees aren't guaranteed even if a tenant wins their case.

Dixon said at she would readily move out of her unit if she had the financial resources to do so. She said paid work is coming her way again, but she still feels stuck in place.

"There's a light at the end of the tunnel because I can save up and move, but it's not going to happen tomorrow," said Dixon. "I have to still endure all this harassment and torment until then."
In South Central, tenant Elizabeth Hernandez's issues with her landlord began well before the start of the pandemic. In 2019, Hernandez said she and other tenants in her building began a months-long rent strike, making payments into an escrow account while negotiating with their landlord around deferred maintenance and proposed rent hikes that Hernandez said amounted to an informal eviction notice.

On the very same day that citywide stay-at-home orders were issued in March 2020, Hernandez said a building manager came to her apartment and demanded that she and her family move out.

"He came to us with a supervisor to say 'you can't live here for free; you can't stay here,'" said Hernandez.

Hernandez makes cakes and decorations for parties. With her husband, who is a street vendor, they watched their income disappear virtually overnight when the pandemic hit. With businesses shuttered and residents ordered to shelter in place, Hernandez said she feared that her family would be left with nowhere to go.

"How were we supposed to move out at that time?" she said. "It was impossible."

Hernandez said her family could no longer afford to make payments into the escrow account and struggled even to afford food and other necessities in the first year of the pandemic.

Hannah Appel, associate professor of anthropology at UCLA, studies the weight of debt on households and communities. She said experiences like those of Hernandez and Dixon, in which people become trapped in unsafe or volatile living situations due to financial instability, are common, particularly in communities of color.

"What we have on our hands is a situation of slow violence," said Appel. "We have people unequally drowning in household debt and meanwhile protections and [forbearances] are slowly being lifted."

Appel said the relief money now being distributed to renters may prevent a tsunami of evictions, but it also won't cover all the pandemic debt accumulated by low-income tenants—many of whom may have already been dealing with untenable levels of debt and who may have been forced to borrow money to cover household necessities.

"This is not people making bad financial choices," Appel said. "This is people trying to put food on the table."

Eventually, said Appel, that debt is likely to catch up with tenants, leading to bankruptcies, evictions, and trips to small claims court—where landlords can now sue tenants for back rent not paid off with state relief funds.

Already, the number of eviction cases in Los Angeles courts is on the rise. Court data gathered by UCLA doctoral student Kyle Nelson shows that unlawful detainer filings in Los Angeles County rose 35% in the three months since October 1, 2021, when statewide eviction protections were lifted, compared with the prior quarter.

The data speak to the limitations of even California's relatively stringent eviction protections. Though unlawful detainer filings decreased considerably during the pandemic, a true halt to eviction cases was never implemented. In Los Angeles County alone nearly 20,000 unlawful detainer lawsuits were filed between March 1, 2020 and December 31, 2021, according to Nelson's data.

Gary Blasi, professor of law emeritus at UCLA, said one of the strongest safeguards against evictions now in place is the state's relief money itself. Until March 31, landlords seeking to evict tenants over unpaid rent accumulated during the pandemic must first demonstrate that an application for financial assistance was denied.

Blasi said this provision of the state law is effectively keeping many renters housed while relief funds are slowly distributed to tenants and landlords. He notes that for rent-controlled properties, where landlords are able raise the price of rent to market levels only after an existing tenant has moved out, it might make more financial sense for landlords to pursue an eviction rather than waiting on the state to cover missed rental payments.

"The main obstacle standing in their way is that they can't really begin an eviction case unless they file an application for rental assistance," Blasi said.
Time is running out even on this protection, and Blasi points out that there's strong evidence that many renters are still struggling with financial impacts of the pandemic.
In May, 2020—before statewide anti-eviction measures were passed—Blasi published a dire research paper warning that inaction by local and state officials to prevent people from losing housing could lead to an outright "humanitarian disaster," with homelessness reaching unprecedented levels in most cities.
Blasi said legislative actions and emergency funding have prevented such a scenario—but that relief checks from the state will only go so far.
"Unless there's an economic recovery that's more robust at the bottom of the ladder, it's going to be bleak," said Blasi.
For Hernandez, the state's rent relief program has been successful. She said her application for financial assistance was approved and she was able to negotiate a new lease agreement with her landlord. Still, she said she knows that others haven't experienced the same results.
Through her efforts to remain in her home, Hernandez got involved with the Alliance of Californians for Community Empowerment and said she has been phone banking to inform tenants about their rights and to encourage them to sign up for rental assistance.
Hernandez said undocumented tenants and non-U.S. citizens have been reluctant to sign up to receive this financial support out of concern that participation could make them targets for deportation or impact their chances of gaining citizenship in the future.
"There are still a lot of issues," Hernandez said. "A lot of people are not going to fill out this application and get protections against eviction."
A survey of tenant organizers across the state released by Tenants Together in early March found that lack of internet access, language, and confusing information all create extra barriers between the relief funds and those who need the assistance most.
There's also the matter of continuing to make rental payments moving forward; rental debt incurred after the end of March is not eligible for relief. Hernandez said she and her family are still struggling to find their financial footing after being out of work for so long.
"I've started working part-time jobs because I also have to take care of the kids," said Hernandez. "My husband is selling again, but it's still not the same as before. We're still trying to find that money."