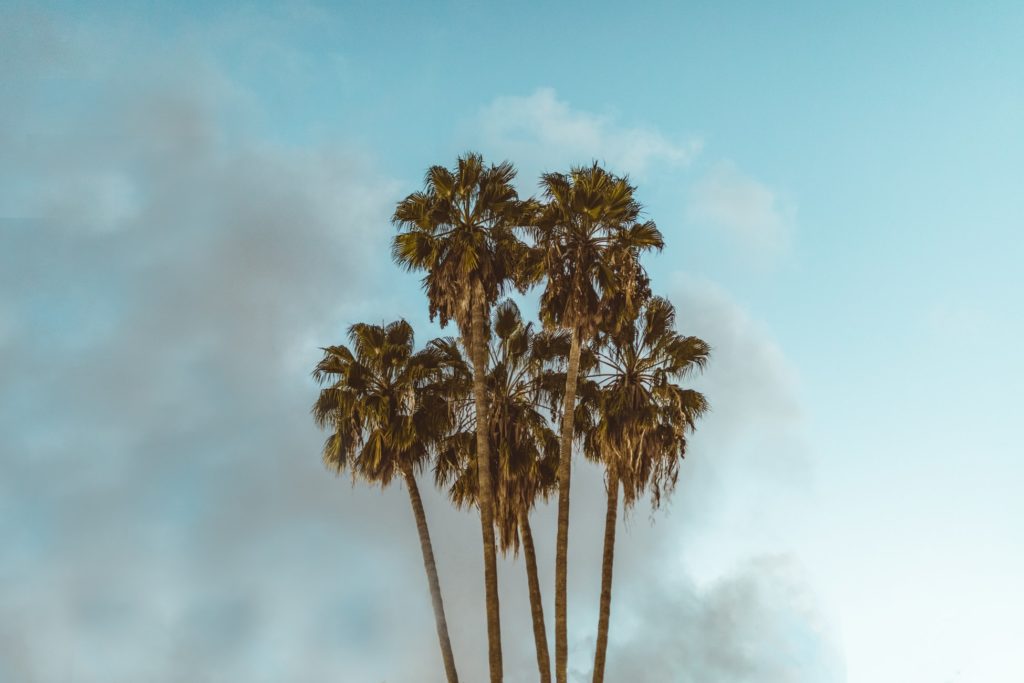 Los Angeles needs more shade trees. We deserve more oaks, willows, and the lesser-known (but equally distinguished!) camphor and pepper trees. We need them to cover us at boozy picnics or our children's soccer matches. On a cloudless July sky, a walk around the block feels more like a plunge into a sea of asphalt. Planting more shade trees would bring a vast improvement to our city's climate resilience and public health.
And yet, they are missing from our most vulnerable neighborhoods. Instead we get palm trees, and we love them so much for what they symbolize that we perpetuate their suffering until they retaliate.
Palm trees are the first things I look at when I sense an earthquake or a storm. A disaster feels imminent when they rock nauseously from the bottom of their stalks. Other times it's the rotting fronds that put on the show, or their flammability that fuels our fires. They attack too; free falling date palms can take down people and vehicles below like lances.
Regarded as emblems of stately luxury and opulence, palms were once marketing tools to drive Western migration. They were great at selling the climate of our temperate, mild-mannered city; the new population had never seen anything so exotic. By 1932, Los Angeles completed a beautification project that involved planting more than 25,000 of them. This means that many of them were planted almost a century ago. They are croaking now.
It's not an easy death. Palms were not prepared for how torturously arid and hot it gets in Los Angeles. They suffer tip damage from the dry winds. Then exposed to the fungus, insects, and smog, they dry up under the sun. The fronds brown until they cannot hang on any longer. They fall on the hottest days and lie in rigor mortis on the street until we crunch them to shards beneath our feet and car tires.
The City of Los Angeles doesn't exactly know how many trees we have, but the lack of a census is a county-wide issue. "A big hurdle is that there are 88 municipalities in LA County and not all of them work together, or even talk together," explains Brian Rekart, the Director of Forestry at TreePeople, a nonprofit environmental advocacy group. "If we do find inventory, which would help us identify where to put trees, some of them are in boxes on paper."
TreePeople tackled this issue by collaborating with the Loyola Marymount Center for Urban Resilience (CURes) to assess our county's existing and potential tree canopy coverage. The survey looked at how much of our city has shade based on cover in various neighborhoods – not just by name but also by type (e.g. affluent estates, ethnic enclaves, rustic outposts, etc). Using high-resolution remote sensing data and LiDAR (Light Detection and Ranging), the two groups also identified potential priority areas that could use urban greening.
According to TreePeople's assessment, currently only 25% of the city – 18% of the county – is covered by tree canopy. Furthermore, home value is positively correlated with tree canopy. The higher the home value, the denser the tree canopy in the property's area. What's worse, 18% of Los Angeles' tree canopy grows where only 1% of the city's population lives. That would be places like Pacific Palisades, Brentwood, and residential areas in the Santa Monica Mountains to name a few.
Short of fancy LiDAR technology, there's nothing like a stroll through these higher-income neighborhoods to see the unequal distribution of trees.
But first, Koreatown.
As far as tree cover goes, it's one of the most exposed neighborhoods in the city. Many of Koreatown's residents aren't protected from the heat above. In a neighborhood that has one of the highest concentrations of unhoused residents living on its streets, the lack of coverage invites a solemn gamut of illnesses such as heat exhaustion, heat stroke, and dehydration. According to the latest LAHSA homeless count, 582 people remain unhoused in the neighborhood. That's 582 people at risk of illness due to unrelenting sun exposure.
Just a block away from the western border of Koreatown, you have Windsor Square.
(Henceforth, you are required to read "Windsor Square" in a haughty Victorian-era English accent.)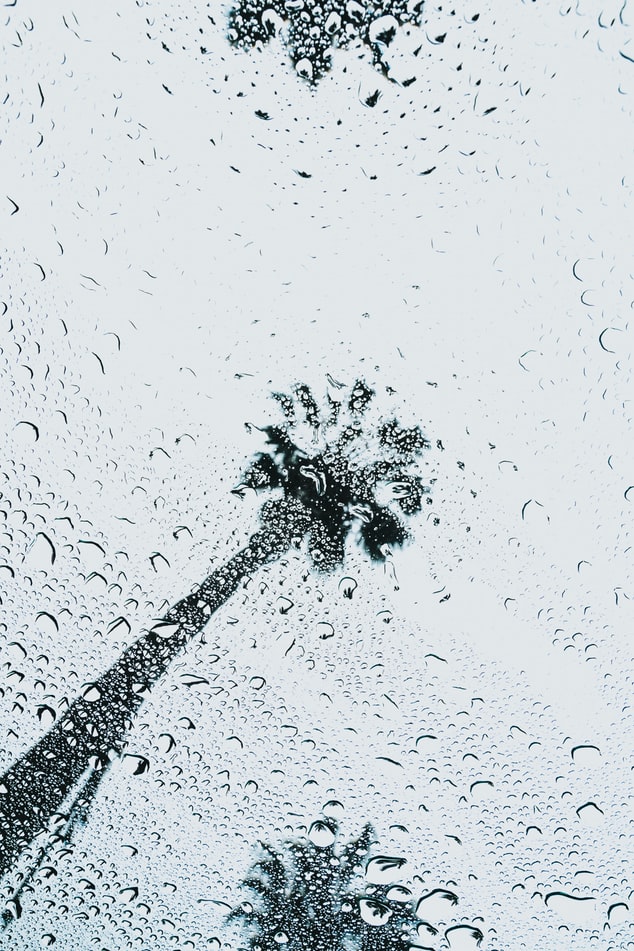 The houses in Windsor Square started going up around 1921. At the time, it was planned to be the most exclusive neighborhood in Southern California and the largest upper-class subdivision ever marketed in Los Angeles. Today Windsor Square remains home to several of our city's celebrities and public figures. Most famously we have the Getty House, the official residence of the Mayor of Los Angeles.
Windsor Square set itself apart from other developing neighborhoods by putting an emphasis on urban greening. All of its residents have been advocates of healthy forestry. In 2000, the Windsor Square Association published a working pamphlet that celebrated the eleven (!) different types of trees in the neighborhood. On the back of this pamphlet is the Master Plan of Trees, which designates a particular tree to be planted on each street.
There's an interesting rationale behind the choice of trees, one that becomes easier to explain through a walk.
Start at the intersection of Koreatown's Wilton Place and 5th Street and head west into Windsor Square. On this street you'll find a long row of wind-beaten Mexican Fan Palms curving towards the south. They're miles away from the beach, where they'd fare better in the dampness of coastal fogs. Some hang limply, defeated by shocking outside conditions. Others have their heads cut off, most likely snapped with the wind. All that's left of those are thick fibrous stalks that shoot 150 feet into the air.
Walk until you hit Lorraine Boulevard. Here you'll see its aisle of beautiful Deodar Cedars, evergreen conifers that exude drama and majestic elegance. Their pendulous branches guard passersby from the sun. For a moment, the shade might make you forget you're in Los Angeles. Lorraine Boulevard is the street of dreams on broiling summer days. The massive Spanish mansion lawns are perfect for a siesta, if not for the fact that someone would definitely call the police on you for trespassing.
Now make your way west until you hit Windsor Boulevard. Looking northward, this street gives you an awesome head-on shot of the Hollywood Hills; on clear days, you will see the sign. The street is lined with lush Canary Island Date Palms on both sides, framing the iconic rolling hills ahead. In other words, Windsor Boulevard is one giant photo opportunity. The street is host to our city's busiest content creators who cruise through this street for what it has to offer. A picture of the Hollywood sign framed with date palms is worth a thousand comments and likes.
The Windsor Square Master Plan is urban set design brainstormed by families who have the means to play around. It designates palms to lie on picture-perfect streets while withholding shade trees from Koreatown just less than a mile away. It is Mr. Burns-level genius.
"Legacy" neighborhoods like Windsor Square have built in a historic process to reap the benefits of having eleven types of trees. "This is the difference in our neighborhoods," explained Edith de Guzman, Director of Research at TreePeople. "Some predispose people to feel enfranchised, ask for things, get resources, and find champions who make those things happen. Then there are some of us who live in neighborhoods where that doesn't occur, so it's harder to bend the ear of an elected person to help us realize the vision for our neighborhood."
It's maddening that Windsor Square is just blocks away while Koreatown cooks itself. If it is true that shade trees mitigate heat, improve public health, and help streets feel more pedestrian-friendly, then why haven't we granted those benefits to other parts of town that desperately need to house our residents who spend the most time outside?
"The City of LA's Urban Forestry Division is under the Bureau of Street Services, which means that funding for trees and maintenance and care is last on the list," noted Rekart.
Oh, brother. The Bureau of Street Services, as in the same Bureau of Street Services responsible for granting right-of-way permits and responding to 311 calls from the public. This is the same team who cannot discern illegal dumping or bulky items from personal property. If the recent reporting around LA's housing crisis is any indication, the City is mired in its own ineptitude and inertia in providing services to those who make the streets their home due to evictions or loss of income. Often, the Bureau of Street Services's responses to 311 calls will favor business owners who try to push unhoused residents out of our neighborhoods, but they don't implement real solutions to ameliorate the ills of our city. To Rekart's point, everything somehow feels like it's last on the Bureau of Street Services' list if that's even possible.
I'm not so sure that the City will be our reliable ally in making this city feel cooler. So far, it's been the advocacy groups and compassionate neighbors who teach the public about the unequal distribution of trees in LA. What must happen next is that our legacy neighborhoods stop treating leafy trees like something to be bequeathed.
Our sickly palms have been trying to tell us that they, too, will perish underneath our canopy-less sky. Shade means survival for Los Angeles as a city and as lore. We have to stop seeing it like a luxury item.
If you want to steal some shade together, I'll be the one pacing back and forth outside the Spanish mansions on Lorraine Boulevard.