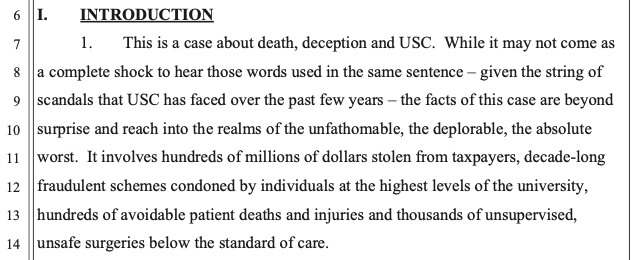 A former faculty member at the University of Southern California's Keck School of Medicine alleges the school engaged in a decade-long pattern of irresponsible supervision of surgeries and fraudulent billing practices at Keck Hospital and LAC+USC Hospital. According to Dr. Justin Cheongsiatmoy's recently unsealed lawsuit, USC has been responsible for "hundreds of avoidable patient deaths and injuries" and has cost taxpayers huge sums of money billing for services that were not provided.
Cheongsiatmoy's allegations stem from his time as an attending physician in the Keck hospital's Intraoperative Neurophysiological Monitoring (IONM) Program. According to the suit, IONM services are meant to "protect against life-threatening patient harm such as paralysis and death" in risky surgical procedures where impacts to the nervous system are possible.
IONM allows for expert physicians to respond to minute changes in the patient's condition remotely and in real-time, and guide surgeons and technicians on how best to avoid negative health outcomes. Cheongsiatmoy alleges that while these services rely on constant supervision by a physician to be useful, USC would not provide continuous physician supervision. Instead, he says, physicians would be booked to provide advice on multiple surgeries at once, or even on days that they were not scheduled to work.
Cheongsiatmoy's whistleblower suit has been the subject of review by the United States, the state of California, and Los Angeles County, who may decide to join the civil case, file criminal charges, or decline to get involved. Such actions, known as "qui tam" lawsuits, are brought by private parties on behalf of the government. Qui tam suits allow governments time to initiate their own investigations into fraud prior to the defendant being formally served. United States Department of Justice statistics indicate that in the 2020 budget year the federal government recovered $1.45 billion in settlements and judgments arising from qui tam lawsuits.
An internal review of the hospital's billing practices substantiated some of Cheongsiatmoy's accusations, according to a voluntary disclosure from former Keck Medicine CEO Thomas Jackiewicz to the U.S. Department of Health and Human Services. (Jackiewicz departed Keck for the University of Chicago Medicine health system in 2020.) The review found that the IONM Program under Dr. Andres Gonzalez had billed Medicare for procedures that were not actively being monitored by the named physician, and, in some cases, that doctors had billed time for procedures taking place on days that they were away from the hospital.
USC told the federal government that Dr. Gonzalez's contract was not renewed when it expired in June 2020 due to USC's "lack of confidence in his leadership" stemming from "significant billing errors." Despite that, USC's review concluded that these issues were not likely to be "systemic." In its voluntary disclosure to the federal government, which dates back to March 2020, USC claims that over a five-year period, it tabulated incorrect billing practices had resulted in USC receiving approximately $170,000 in overpayments from Medicare, Medi-Cal and other payers.
Cheongsiatmoy's own allegations put the figure far higher; he repeatedly claims that "systemic fraud" dating back to 2008 has cost taxpayers "hundreds of millions" of dollars. The basis for that larger figure was not immediately clear, although Cheongsiatmoy's complaint alleges that in cases where IONM is improperly conducted, "the entire surgical procedure… and other associated charges… are essentially worthless."
USC's knowledge of and involvement in the case stretches back at least to November 2018, when the USC hospital system received a subpoena from the California Department of Insurance ordering Keck to preserve certain records relating to its IONM program. Disclosures from USC have continued since the March 2020 letter to HHS, according to a recent filing. Cheongsiatmoy says USC refunded an additional $315,000 in overpayments in August 2020, and approximately $375,000 more in overpayments in August 2021.
According to court filings, the involved governments have thus far declined to intervene in the case, but, on January 4, filed a briefing indicating that they are considering doing so. The judge's order indicates that settlement discussions between USC and the United States, California and Los Angeles County are "well underway."
Cheongsiatmoy's lawsuit also seeks damages for retaliation and harm to his professional career. He says that he first brought his concerns about billing fraud to Keck hospital executives, at which point he alleges he was instructed to "put [his] head down," and not make trouble. Following what he describes as further efforts to blow the whistle internally, Cheongsiatmoy says he was placed on involuntary leave for several months.
Cheongsiatmoy further alleges the university sabotaged his reputation with other universities that offered him work despite what he says was a previous record of high performance at the school before he sought to raise billing issues. Cheongsiatmoy says USC falsely told potential employers that he had been placed on leave for assaulting "staff and colleagues in the workroom," which he says never occurred.
Reached for comment, USC provided LA Podcast with the following statement:
"Nothing is more important to us than patient care and compliance.
Since this matter first came to our attention, we took immediate steps to investigate and address the underlying issues, including by providing reimbursements to the government and others as appropriate. We are still reviewing the allegations in the amended complaint and will continue to cooperate with the government, which has not joined the lawsuit at this time.
Retaliation has no place at USC and is not tolerated."
Note: This story has been updated to clarify the distinction between the USC Keck School of Medicine, and the university-owned hospital and healthcare business, Keck Medicine of USC. The alleged wrongdoing took place at the hospital system, not the medical school.