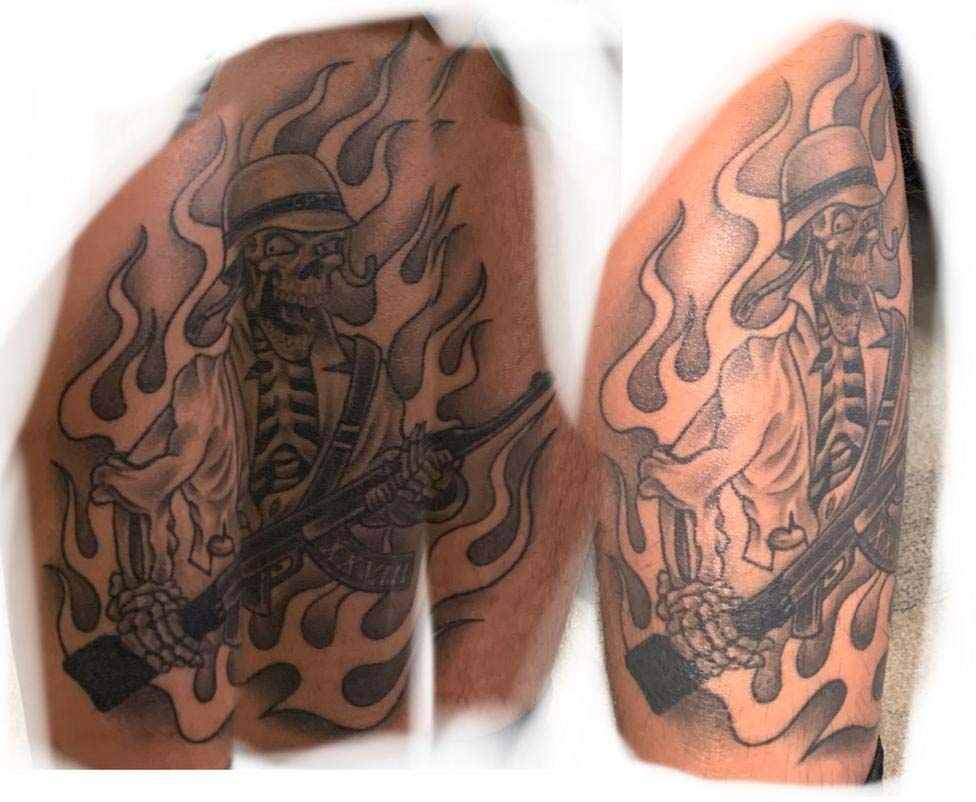 After the bars closed one night in October 2015, Lucia Zvonaru, a police officer in the City of Orange, was driving through an unpopulated, industrial part of town by the Santa Ana River. She was working on a DUI detail.
As she traveled north on Main Street, Zvonaru saw two cars ahead of her nearing the Taft Avenue intersection. Zvonaru says that one car stopped at the red light, but the other, a silver pickup truck, blew through it. Zvonaru lit up the lights on her patrol car and pulled the truck over. But when she approached the driver and asked him if he knew he had turned on a red light, she says he "immediately" replied, "I'm a sheriff's deputy."
The truck Zvonaru had pulled over was being driven by an off-duty deputy named Mizrain Orrego from the Los Angeles County Sheriff's Department. During the two-and-a-half hour traffic stop that followed, Orrego "exposed" his pistol to Zvonaru, three officers from the Orange Police Department were called in for back-up, and Orrego's partner and friend, Deputy Samuel Aldama, inserted himself directly into the middle of Orrego's arrest.
The deputies were assigned to Compton Station, and both would eventually testify to being tattooed with the skull-and-assault-rifle insignia that whistleblowers claim signifies membership in a violent deputy gang known as the Executioners.
In the months after, both deputies committed brutal acts of violence against Black men. One of them, the fatal shooting of Donta Taylor, resulted in a $7 million settlement paid by LA County to Taylor's family. In the other, the deputies allegedly beat a young man who was then held in jail for 8 months on charges that were eventually dropped.
By the end of the night in October 2015, Orrego was placed in handcuffs and arrested for driving under the influence after blowing a .13 during a breathalyzer exam. The events would lead ultimately to Orrego's firing and an internal investigation into Aldama for bringing "discredit" to the department.
Shortly after this story published, the Los Angeles County Sheriff's Department responded to questions from LA Podcast. The department said Deputy Aldama was suspended for 15 days for violating department conduct standards.
Lucia Zvonaru declined to speak to LA Podcast about her arrest of Orrego. LA Podcast was directed to speak with Lieutenant Scott Jorgensen of the City of Orange Police Department for comment on the matter, but Jorgensen could not be reached by the time of publication.
Details in this article are being published for the first time by LA Podcast from two sources. The first is a lawsuit filed by Orrego against the Los Angeles County Civil Service Commission. Orrego is seeking reinstatement to the department, with back pay. Lawyers for Mizrain Orrego did not respond to comment at the time of publication. The second is a personnel report detailing the internal investigation into Samuel Aldama, who remains employed with the department. The confidential report was introduced into the public record when an unprotected folder of discovery materials was linked to in PACER, the federal court records system. The Aldama investigation includes never-before published testimony that Aldama and Zvonaru gave as witnesses to the actions of then-Deputy Orrego during the traffic stop in 2015.
The record also includes transcripts of interviews between Aldama and Compton Station supervisors, who investigated Aldama for making "misleading statements" to police and investigators during and after Orrego's arrest.
According to Zvonaru's statement, given to a Compton Station supervisor in 2016, Orrego was non-compliant, disrespectful, and unprofessional throughout the traffic stop. In her telling, he repeatedly appears to have leaned on Zvonaru for special treatment on account of his being a law enforcement officer. When she informed Orrego she would be administering a sobriety test, she says his response was incredulous.
"He asked me a couple times. 'Like really? I'm a sheriff's deputy. Are you really going to do this?'" Zvonaru said.
Later, Orrego's disbelief seems to have turned to anger. Zvonaru reports his "mocking" and "profane language," and says Orrego told the City of Orange officers that he, unlike them, was a "real cop." Orrego singled out Zvonaru as a focus of his disdain, and called her a "rookie," despite the fact that she, like himself, was a nearly 10-year law enforcement veteran.
Zvonaru recounts the deputy refusing to comply with orders to keep his hands on the steering wheel, or to hand over his license and registration. Instead of a driver's license, she says, he handed her his I.D. card from the sheriff's department. Then, she said, when she asked him if he was armed, he wordlessly leaned back in his seat, revealing a pistol grip leaning against his right leg.
Orrego's lawyer in his case against the Civil Service Commission, Sherry Lawrence, has disagreed with this characterization of her client's behavior. In a court filing, Lawrence said, "body worn camera footage shows that [Orrego] was quiet and cooperative" during the traffic stop. Orrego's lawyer also disputes the initial cause of the stop that night, and wrote in a separate suit against the county that he "actually went through a yellow, not red, signal."
Deputy Aldama was present at the traffic stop because he had been following Orrego when he was pulled over. In testimony to department investigators in 2017, Aldama says that he had planned to drive Orrego home following a party for Compton Station employees that night at the Tilted Kilt restaurant and bar in the City of Orange. According to Aldama, Orrego was pulled over before they could find a parking lot to store his truck.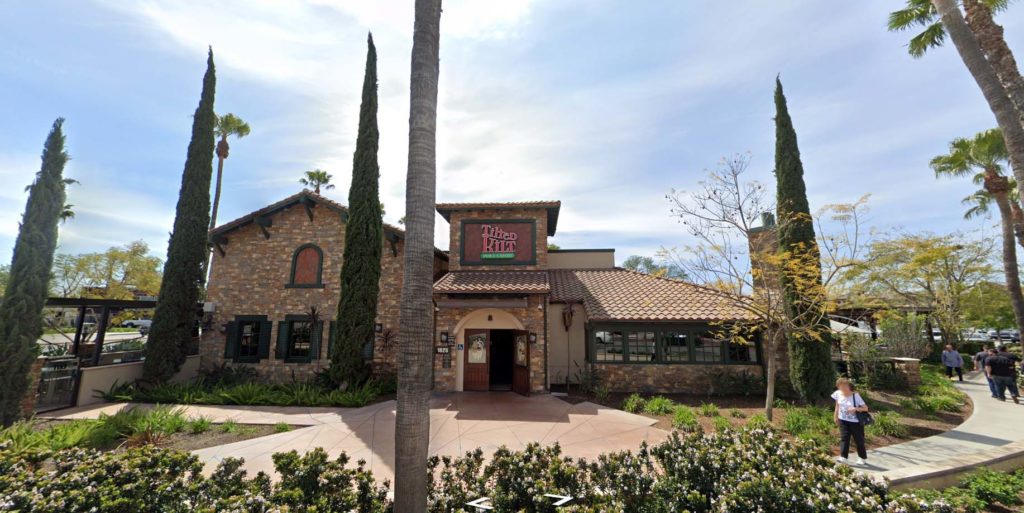 As compared with Orrego, Zvonaru reported a better experience with Aldama, whom she described as helpful and "cooperative." Although initially, Zvonaru described Aldama as approaching her before her back-up arrived. Zvonaru says she told Aldama to "stay back." In his own testimony, Aldama denies ever having approached the traffic stop, saying he waited until officers came up to him.
Zvonaru says that Aldama introduced himself as Orrego's "friend." Aldama, she says, asked "if there's anything he can help with." He offered to take responsibility for getting Orrego home if he were released on site, and to take custody of Orrego's belongings, including his off-duty pistol. He even said (according to investigators, at least three times) that he had called dispatch from Compton Station, 25 miles west of their location, and that patrol cars were on their way to the traffic stop already.
While Zvonaru told investigators that it would be "routine" for her department to verify the sobriety of someone taking responsibility for an inebriated driver, Aldama declined to submit to a breathalyzer test and was not required to undergo a field sobriety test. The City of Orange officers eventually gave custody of Orrego's belongings to Aldama, including his weapon, and left Orrego and Aldama on the side of the road.
No patrol cars from Compton Station ever came to their location, because Aldama had not at that point called his station's dispatch. It was one of several statements the pair made to the officers deemed "misleading" by the sheriff's department that resulted in disciplinary action being brought against them in connection with this arrest.
According to a lawyer for the county at the Civil Service Commission hearing, Orrego told the City of Orange officers that another deputy who had left the party at the Tilted Kilt earlier had asked him to drive the silver pickup truck home for him. Dan Carmichael, the county's lawyer, said that Orrego had also told the officers that the Tilted Kilt party was for a friend who was being promoted to the rank of sergeant. Separately, Carmichael reports that Orrego said he hadn't seen any other officers at the Tilted Kilt party.
A hearing officer found, and the commission upheld, that those statements were false and relevant to the DUI investigation against himself.
On the topic of the party, Carmichael protested Orrego's representation of events, and said that there was testimony that 15 and 30 employees of Compton Station had been at the party, and at least one deputy testified to having spoken to Orrego that night. According to Carmichael's statement to the Civil Service Commission, both Aldama and Orrego had taken time off work to attend the Tilted Kilt party, and that Orrego in particular had been there "six or seven hours."
Of Orrego's claim to have seen no other employees at the restaurant, Carmichael said, "that doesn't pass the smell test. It's unbelievable. It's not worthy of any credence."
Orrego appealed the Civil Service Commission's decision to the Los Angeles County Superior Court. His case is pending.
Separately, the Sheriff's Department confirmed to LA Podcast that 12 to 30 department personnel attended the Tilted Kilt party, including two Compton Station supervisors.
Aldama too was swept up in the investigation. At first, he testified to internal affairs as a witness to Orrego's conduct, but eventually he became the subject of his own investigation, as Chief Bobby Denham alleged Aldama's conduct had brought "discredit" to the department.
Following the investigation, Compton Station supervisors said Aldama "acknowledged he made a poor decision" and "expressed remorse." After the investigation, Aldama was permitted to remain on duty, but was suspended for 15 days for violating department conduct standards, according to a department spokesperson.
Taken together, the investigations cast doubt on the conduct and decision-making of deputies who, in 2016, were involved in two high profile cases of alleged racist brutality by the sheriff's department in Compton. In January of that year, the pair arrested Sheldon Lockett, a Black man, for assault with a deadly weapon. In a pending civil suit against the county, Lockett says the deputies beat, tased, and shouted racist epithets at him. He says he was then jailed for eight months before the criminal complaint against him was dropped.
John Sweeney, a lawyer representing Sheldon Lockett in the civil suit against the county, said he was aware of Orrego's 2015 arrest but declined to comment on Aldama's involvement in the incident.
After the Lockett arrest, in August, Aldama and Orrego shot a Black man, Donta Taylor, six times, killing him, after they said Taylor pointed a gun at them. No gun was found at the scene. The shooting was found to be within policy and no charges were filed against either deputy by then-District Attorney Jackie Lacey. After Taylor's death, his family sued Los Angeles County. In 2019, the county settled with Taylor's family for $7 million.
The Taylor case achieved even greater notoriety when Deputy Aldama revealed in a deposition that he had a tattoo of a skeleton and assault rifle bearing the letters 'CPT' and the Roman numeral '28,' both referencing Compton Station. In echoes of other deputy gangs that have been documented through decades of sheriff's department history, Aldama said he had been granted the tattoo for "working hard" and that as many as 20 other deputies shared the same tattoo. Orrego later testified that he had the same tattoo.
Subsequently, whistleblowers have alleged the tattooed deputies belong to a gang that calls themselves the Executioners. The accusations against the Executioners include a litany of abuses, ranging from the murders of members of the public, the beatings of other deputies, and the subversion of the station's chain of command to benefit friends and sexual partners.
Lawyers for the county say Orrego was terminated because of his DUI arrest and the false statements that he made to arresting officers and internal investigators. He has not worked with the department since 2017. Orrego has continued to deny the allegations that he made materially false statements. In his suit against the Civil Service Commission, Orrego claims that his termination was an "excessive" punishment exacted by the county for "political reasons."
Lawrence, Orrego's lawyer, said at his hearing that Orrego was willing to accept a punishment of a 25-day suspension if he is allowed to return to the department. "Everyone who knows this deputy wants him back," Lawrence said.