Hi! This is the complete, probably unnecessarily thorough voter guide put together by the hosts of LA Podcast, a weekly podcast about what's going on in LA.
Every measure and candidate at the state, LA county, and LA city level are described and endorsed with our opinions below. We didn't cover any local elections for cities other than Los Angeles, though.
"Wait. I do not want to read this entire thing. I just want a cheat sheet I can save to my phone and use in the voting booth, then go back to living my life." Okay, here you go: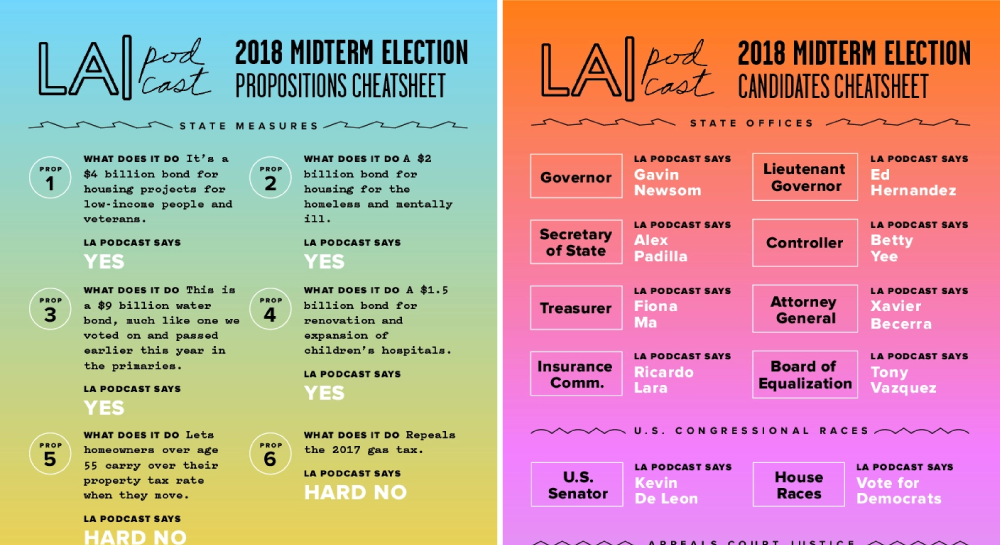 If you finish this guide and are still thirsty for more hot ballot action, we recommend checking out Voter's Edge California and the DSA-LA voter guide, which has a ton of campaign finance information that we didn't cover.
Here's a table of contents:1. State Props2. LA City and County Props3. Statewide Elections4. Congressional Elections5. State Senate6. State Assembly7. Sheriff and Assessor8. The Judges
THE STATE […]
Continue Reading